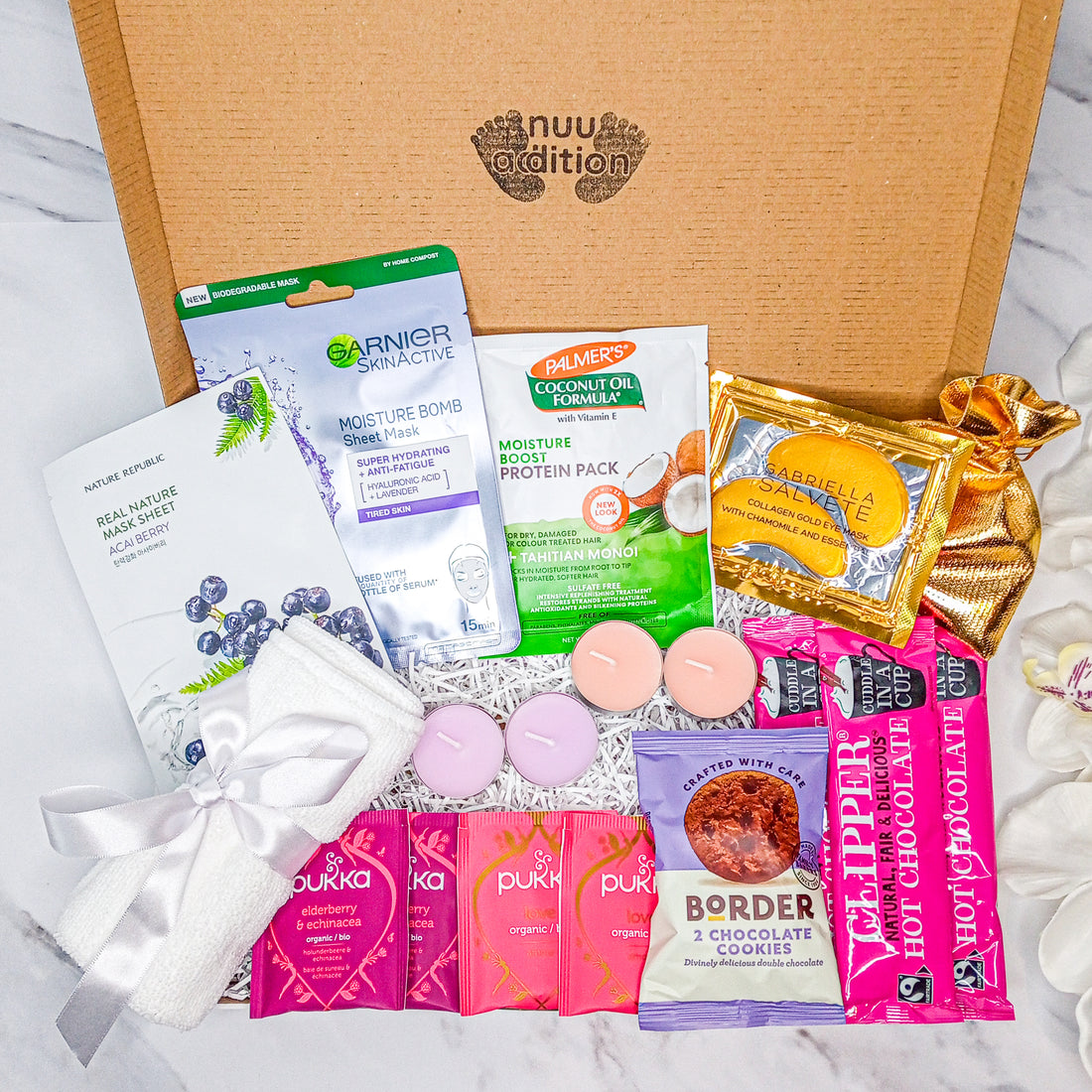 Do you know someone who is about to have a baby? This premium mummy to be hamper is a terrific way to congratulate an expectant Mother. A letterbox gift that makes you go 'WoW'.
The Mum To Be Hamper is a lavish present, filled with luxurious items for a spa day at home. Complete with moisturizing face masks, and herbal teas that provide an extra source of nutrients during each pregnancy trimester. Show how much you care with this indulgent hamper for some well-deserved TLC.
Presented in a lovely white box that is cleverly designed to fit directly through the letterbox. Providing the most magical gifting experience, in preparation for the birth of a new baby. We uniquely gift wrap all our letterbox gifts, adding a touch of sophistication while maintaining a sense of exciting mystery.
This beautiful selfcare gift includes the following:
• 1 x Luxury Acai Berry Face Mask Sheet
◦ Boosts moisture
◦ Smooths complexion
◦ Anti free radicals
• 1 x Moisture Bomb Sheet Mask
• 1 x Hair Conditioning Mask, that is enriched with coconut oil and protein for hair regrowth.
• 1 x Gold Collagen Eye Masks, infused with chamomile and essential oils, these gold eye patches are designed to rejuvenate the skin around the eyes and reduce puffiness.
• 1 x Stunning Pouch of Bath Salts, these soothing sea bath salts are known to nourish the skin and relax aching muscles.
◦ Golden pouch bag
◦ Always best to seek healthcare advise if pregnant or breastfeeding before using them.
• 2 x Lavender White Tealight Candles are lovely, providing a warm and cosy aura.
◦ 3.5 hours burning time
• 2 x Rose Blossom Tealight Candles are beautifully scented, to provide a calming ambiance.
◦ 3.5 hours burning time
• 2 x Pukka Elderberry & Echinacea Teas
• 2 x Pukka Feel New Teas
• 3 x Clippers Hot Chocolate Sachets
• 1 x Twin pack of Border Biscuits
◦ Chocolatey Cookies
◦ Satisfyingly tasty
• 1 x Microfibre Face Towel that is super soft and provides a superior amount of reusuability.
◦ Very absorbent
◦ Dries quite fast
• 1 x White Letterbox
• 1 x Protective Outer Packaging
The Mum To Be Hamper is magnificently gift wrapped. We use gemstone tissue paper inside, completed with a rich gold honeycomb pattern gift paper for the box.
If you wish to include a custom gift message, please type it in the Order Note area at checkout.
This hamper is ready to be gifted, with no receipts or prices in the parcel. If you would like to send the hamper directly to your giftee, please enter their address details in the delivery section. Please be aware that the branding of a product might occasionally vary due to stock availability. The replacement item will always be of high quality, equal value and within the same theme. This is so we can provide our customers with the best experience and get your hampers out to you as quickly as we can.
Experience new layers of luxury and comfort with our complimentary gift wrapping service, at no extra cost. All gifts and hampers always arrive stunningly gift wrapped.

We are based in the UK and our flat rate shipping fee for all orders is £4.95, using Royal Mail 1st class. Your order will be delivered between 1 -3 working days. We also offer Guaranteed Next Day Delivery, if you need your gift ASAP.

For more details, please see our Shipping Policy. We also ship Internationally for more information visit our International Shipping Policy.